Pakistan: Government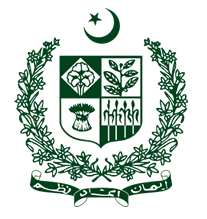 Key Figures
Chief of State: President Mamnoon Hussain
Head of Government: Prime Minister Nawaz Sharif
Overview
Government Name: Islamic Republic of Pakistan
Constitution: Adopted: 1974; Identifies the state in terms of physical existence and borders, people and their fundamental rights, state's constitutional law and orders, and the constitutional structure and establishment of the institutions and country's armed forces.
Government Type: Federal Republic
| | Main Powers | Election Process | Election Cycle Source: ElectionGuide, http://www.electionguide.org/ |
| --- | --- | --- | --- |
| Executive | President can dissolve the National Assembly and has other residual powers. Prime minister provides advice to the president with assistance from the Federal Cabinet. | President is indirectly elected by an electoral college. Prime minister is elected by parliament. | President: 6 years; Prime minister: 5 years (expires with the dissolution of the National Assembly) |
| Judicial | Supreme Court has original, appellate, and advisory jurisdiction. Provincial High Courts are in each of the four provinces and has original and appellate jurisdiction for their specified province. | Supreme Court has its chief justice is appointed by the president while other judges are appointed by president after consultation with the chief justice. | Mandatory retirement age of 65 |
| Legislative | Both senate and the national assembly can initiate and pass legislation aside from finance bills, but only the national assembly can approve the federal budget and finance bills. The senate, however, cannot be dissolved by the president. | Senate members are elected by indirect vote. National Assembly has 272 members elected by plurality vote in single-member constituencies, 60 members are reserved for women, and 10 members are reserved for minorities. | National Assembly: 5 years; Senate: 6 years |
International Relations
Foreign Policy Trends: After September 11, 2001, Pakistan's prominence in the international community increased significantly, as it pledged its alliance with the U.S. in counterterrorism efforts and made a commitment to eliminate terrorist camps on its territory. Historically, Pakistan has had difficult and volatile relations with India, long-standing close relations with China, extensive security and economic interests in the Persian Gulf, and wide-ranging bilateral relations with the United States and other Western countries. It expresses a strong desire for a stable Afghanistan.
Regional Trade Blocs: No Regional Trade Blocs.
Treaties: No multilateral military treaties
Tax Authority: Federal Board of Revenue
Sources:
CIA World Factbook and U.S. Bilateral Relations Fact Sheets except where stated otherwise.