Israel: Government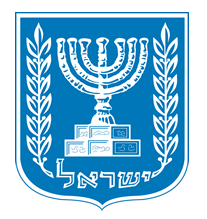 Key Figures
Chief of State: President Reuven Rivlin
Head of Government: Prime Minister Benjamin Netanyahu
Overview
Government Name: State of Israel
Constitution: No formal constitution, but has separate "Basic Laws" that establish a parliamentary system as a democratic republic, declares territories, freedoms of citizens, and separation of powers among executive, legislative, and judicial branches.
Government Type: Parliamentary Democracy
| | Main Powers | Election Process | Election Cycle Source: ElectionGuide, http://www.electionguide.org/ |
| --- | --- | --- | --- |
| Executive | The president is largely a ceremonial role. The president designates a prime minister to head the government. The prime minister is responsible for the executive tasks of the government. | The president is elected by parliament. The prime minister is appointed by the president. | President: 7 years; Prime Minister: 4 years |
| Judicial | Highest court of the land and is responsible for upholding the law during conflicts. | Judges are selected by the judicial selection committee, made up of all three branches of the government and chaired by the minister of justice. | Mandatory retirement age of 70 |
| Legislative | Approves the designated prime minister, can have a no-confidence vote and dissolve government, and is responsible for creating legislature. | 120 members are elected through a closed-list proportional representation system. | 4 years |
International Relations
Foreign Policy Trends: In addition to seeking an end to hostilities with Arab forces, against which it has fought five wars since 1948, Israel has given high priority to gaining wide acceptance as a sovereign state with an important international role. Today, Israel has diplomatic relations with 163 states. Following the signing of the Israel-PLO Declaration of Principles on September 13, 1993, Israel established or renewed diplomatic relations with 36 countries. Israel has full diplomatic relations with Egypt and Jordan. In addition, on October 1, 1994, the Gulf States publicly announced their support for a review of the Arab boycott, in effect abolishing the secondary and tertiary boycotts against Israel.
Regional Trade Blocs: No Regional Trade Blocs.
Treaties: No multilateral military treaties
Tax Authority: Israel Tax Authority
Sources:
CIA World Factbook and U.S. Bilateral Relations Fact Sheets except where stated otherwise.