Iceland: Government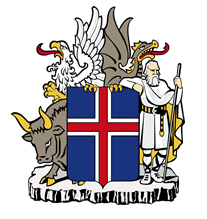 Key Figures
Chief of State: President Ólafur Ragnar Grímsson
Head of Government: Prime Minister Sigmundur Davíð Gunnlaugsson
Overview
Government Name: Republic of Iceland
Constitution: Adopted: 1944; Established the world's oldest parliament (Althing) and declared the country's independence from Norway and Denmark
Government Type: Constitutional Republic
| | Main Powers | Election Process | Election Cycle Source: ElectionGuide, http://www.electionguide.org/ |
| --- | --- | --- | --- |
| Executive | The president is a ceremonial office position and serves as a diplomat and figurehead. The prime minister acts as an executive authority upon the cabinet of ministers. | The president is elected by plurality vote. The prime minister is appointed by the president with the approval of parliament. | 4 years |
| Judicial | Final court of appeal in Iceland. | Judges are proposed by the ministry of interior selection committee and are appointed by the president. | Life appointment |
| Legislative | Parliament is the main legislative body in charge of creating legislature. | 54 members are elected through an open-list proportional representation system and another 9 members are elected by open-list proportional representation in multi-member constituencies. | 4 years |
International Relations
Foreign Policy Trends: Iceland has greatly increased its international profile since the early 1990s. From the mid-1990s until 2007, Iceland opened a number of missions overseas, including in all five permanent member countries of the UN Security Council in anticipation of its (ultimately unsuccessful) bid for a rotating seat on the UN Security Council in 2009-2010. The buildup also included missions to the Council of Europe in Strasbourg and to the Organization for Security and Cooperation in Vienna. In 1998, it bolstered its delegation to NATO, assigning a permanent representative to the military committee for the first time ever. However, in the wake of the economic crisis in fall 2008, the Ministry for Foreign Affairs announced budget cuts resulting in the closure of four overseas missions. Iceland currently has 20 missions in 16 countries.
Regional Trade Blocs: No Regional Trade Blocs.
Tax Authority: Ministry of Finance
Sources:
CIA World Factbook and U.S. Bilateral Relations Fact Sheets except where stated otherwise.