Online Course Modules
Online Course Modules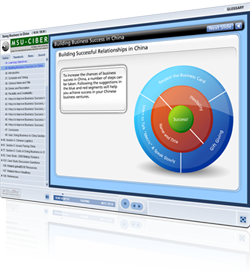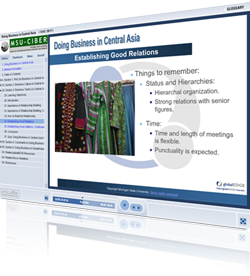 This section provides interactive educational tools for use in the classroom or in executive training. These modules focus on issues pertinent to international business and include a case study or anecdotes, a glossary of terms, quiz questions, and a list of references when applicable. Partially funded by a U.S. Department of Education Title VI B grant (BIE program ), the modules are also excellent resources to prepare for the Certified Global Business Professional Credential.
The "Exporting" module series has been produced in cooperation with the U.S. Commercial Service. These modules were developed from the 2015 edition of A Basic Guide to Exporting and each module represents one of the book's seventeen chapters; the modules are listed by chapter in chronological order. This series provides aspiring and seasoned exporters with a wealth of resources and tools that may benefit even the most experienced international business connoisseur.
Categories
Doing Business In (These modules are currently being updated in a limited fashion. The next major update will occur in 2018.)
Archived Modules (These modules are no longer being updated or maintained.)
Online Course Modules Podcast
Exporting Podcast Episodes
*Please note that these modules are best viewed with a 1024 x 768 window resolution and work with following browsers:
Internet Explorer 6 or higher
Firefox 2 or higher
Flash is required to view all modules.