About MSU-IBC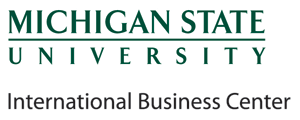 The International Business Center (IBC) in The Eli Broad Graduate School of Management at Michigan State University was designated in 1990 as a National Resource Center by the U.S. Department of Education (i.e., a Center for International Business Education and Research). The mission of IBC is to leverage our leading-edge competencies to provide superior education, research, and assistance to businesses, public policy makers, academics, and students on issues of importance to international trade and global competitiveness using our guiding principles as the foundation. The Center's projects have been funded by: The Title VI B grants through the International Education Programs Service of the U.S. Department of Education, National Science Foundation, U.S. Department of State Bureau of Educational and Cultural Affairs, State of Michigan, W.K Kellogg Foundation, U.S. Small Business Administration, U.S. Agency for International Development, Michigan Consolidated Gas Company (Consumers Power), U.S. Information Agency, Ford Motor Company Fund, The Chrysler Foundation, General Motors Foundation, Frederick L. & Margaret F. Hubacker, Japan Study Abroad Endowment Fund, Broad China Business Society, individual donors listed, The Eli Broad College of Business at MSU, Office of the Provost at MSU, The Office of Research and Graduate Studies at MSU, and Libraries, Computing, & Technology at MSU. The MSU International Business Center is...
A conglomerate of internationalization
The developer of the world-leading globalEDGE™
A CIBER designated center by the U.S. Department of Education
Headquarters of the Academy of International Business
A national leader in study abroad
---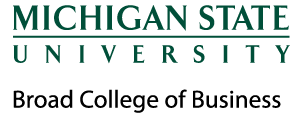 The Broad College of Business is considered one of the elite business schools (based on rankings by Business Week, Financial Times, U.S. News, and Wall Street Journal), and the premier school focused on organizations' global value chains in the world. The Broad School has a collection of world-leading faculty in hospitality management, international marketing, logistics, operations management, organizational behavior, purchasing, and supply chain management, with leading experts in other business areas. The school is named after billionaire Eli Broad, the son of Lithuanian immigrants. Recruiters gave the school its "top scores for students' fit with the corporate culture, their teamwork skills, and success with past hires" (Wall Street Journal, 2005).
---

Founded in 1855 as the pioneer land-grant university, Michigan State University is one of 62 institutions in the prestigious Association of American Universities. MSU is also a member of the Big Ten Athletic Conference. MSU is one of the largest and most diverse universities in the United States, offering a curriculum of more than 200 programs to some 45,000 students. A leader in study abroad programs, MSU also offers about 300 foreign languages and 800 international studies courses and has students from more than 125 countries and all 50 U.S. States.
We advance knowledge and transform lives.