United States: Government
Key Figures
Chief of State:

President Joseph R. Biden Jr.

Head of Government:

President Joseph R. Biden Jr.
Overview
Government Name:

United States of America

Constitution:

Founded: 1787, is the supreme law of the United States that addresses separation of powers into three branches, explains federalism, relationships between states as well as a bill of rights.

Government Type:

Federal Republic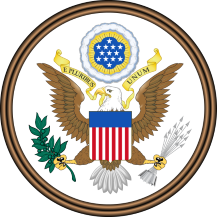 Index of Economic Freedom
Grades each country on a scale of 0 to 100, based on ten freedoms, with 100 representing the greatest amount of economic autonomy from government intervention.
Source:
Heritage Foundation
(2019)
Country Risk Rating
A2
The political and economic situation is good. A basically stable and efficient business environment nonetheless leaves room for improvement. Corporate default probability is low on average.
Source:
Coface
(2023)
Government Branches
| | Main Powers | Election Process | Election Cycle 1 |
| --- | --- | --- | --- |
| Executive | Led by the president, ensures the execution of the US laws. | Elected by an electoral college. | 4 years |
| Judicial | System of the courts, interprets and applies laws. | Appointed by executive branch. | Life appointment |
| Legislative | Power to pass, amend and repeal laws, ability to raise or lower taxes, create budgets and other money bills. | Senate 100 members are elected by plurality vote, and House of Representatives 435 members are elected by plurality vote. | Senate: 6 years; House of Representatives: 2 years |
Regional Trade Blocs
International Organization Participation [2]
Environmental Agreements [3]
Tax Information [2]
Tax Authority:

Internal Revenue Service

Tax Name:

Sales taxes and complementary use taxes are imposed and administered at the state (subnational) and local (substate) levels.
Sources: