Published:
---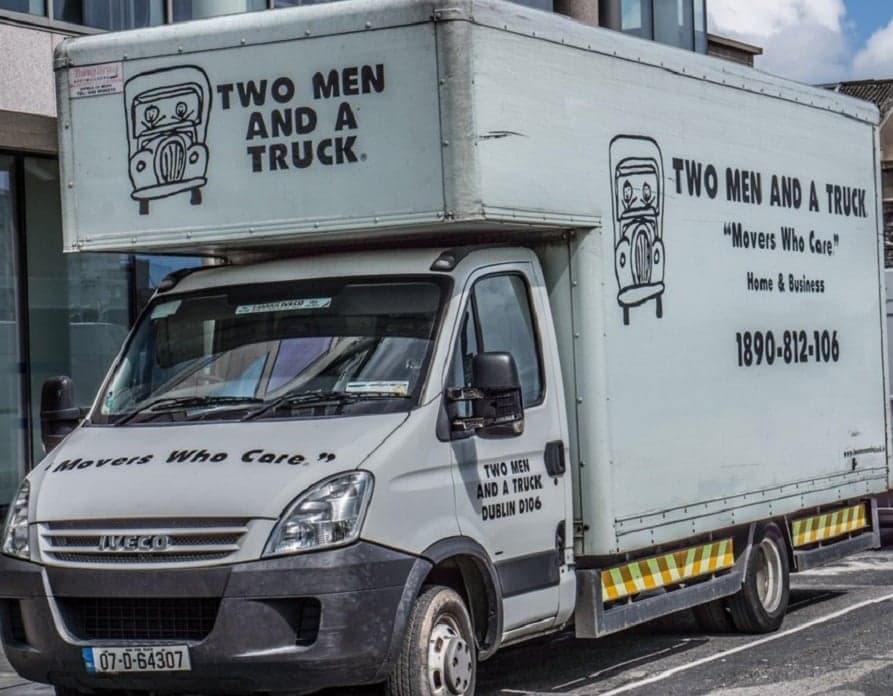 By some accounts, moving is ranked as the third-most stressful event a person can experience, after death of a relative and divorce. Two Men and a Truck started as an after-school business (Video: The Story of the Stickmen) for two high school boys in Lansing, Michigan. As a small business focused on local moving services, the company began in 1985 with $350, a hand-drawn logo, and an advertisement in a local community newspaper.
In 1989, Melanie Bergeron, the daughter of founder Mary Ellen Sheets, opened the first franchised office of Two Men and a Truck in her hometown of Atlanta, Georgia. Melanie is now board chair, with Brig Sorber as the chief executive officer and Jon Sorber as executive vice president. Randy Shacka, who joined the company as an intern in 2001, was promoted in 2012 to president, and Brant Hartle is the Chief Financial Officer. Shacka is the first president of the company who did not come from the family.
Two Men and a Truck is no longer "two men and a truck." The company has grown both domestically and internationally to most of the United States and some 380 locations worldwide. Two Men and a Truck is the fastest-growing franchised moving company in the United States, with more than $300 million in sales, 2,800 moving trucks, and some 6,000 workers. The average franchise grosses about $1.5 million annually. Bergeron said that "we never imagined being in the moving business—that is, until my mom and my brothers Brig and Jon scraped together some money to buy a truck to help raise extra cash for college."
Two Men and a Truck has remained branded as "Two Men and a Truck" in all parts of the world in which it operates franchises (e.g., Canada, Ireland, United Kingdom). Names such as "Two Blokes and a Lorry" do not appeal to them! The company has decided to stick to the core American brand name because "that's what master franchisers and their investors want," said Bergeron. "The customers are less interested in whether it's a U.S. brand … the appeal is the opposite … it's a local [franchise] company that will be available when I need them. … They want the U.S. brand power and mystique."
In going international to new markets, Two Men and a Truck's primary factors to evaluate are the size of the middle class in a country and the population's mobility. They use software tools to help pinpoint income levels by neighborhood and whether the housing market is primarily based on single- or multifamily units. The market for Two Men and a Truck is best where there is a good mix of both. In addition, Bergeron said that two other key areas in determining locations in which to operate include obtaining accurate market research and identifying potential master franchisees.
In the case of Two Men and a Truck going international, the industry itself also represented a challenge. There are plenty of moving businesses worldwide; why should franchisees represent Two Men and a Truck? The company's answer to this market differentiation problem is its exceptional focus on customer service and a sophisticated web-based tracking system. Quality control, labor costs, and cycle time to complete a move are core performance metrics in the system. In fact, the company has become known in its industry for faster and better analytics to run the business. It has installed a private cloud system to make its business operations more efficient, using business analytics to capture and identify growth opportunities worldwide.
Closer to home – Lansing, Michigan – Two Men and a Truck keeps building on its more than 95 consecutive months of growth as of May 2018 by planning to hire another 200 people. The hiring is part of the Career Move Month campaign, President Randy Shacka said, when some 1,500 people are planned to be hired by the company. Fascinating private Lansing-based company with a family environment and a very structured franchising system.
Note: This story about Two Men and a Truck is featured in a "Management Focus" learning-scenario on growth and exporting in the worldwide market-share leading textbook, International Business 12e, by Charles W. L. Hill (University of Washington) and Tomas Hult (Michigan State University).
Share this article
---