Published:
---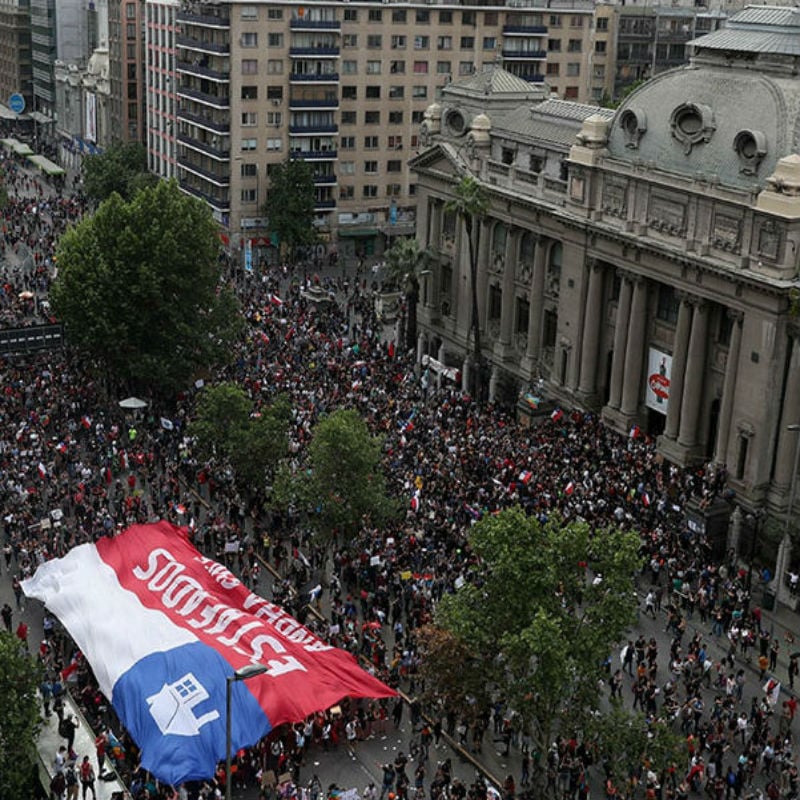 Since the subway protests began in Chile on October 18th, 2019, the country has stayed in a state of unrest, with some cities in a state of danger. The protests that initially started from a proposed increase in subways fairs are now a range of grievances over education, health services, economic equality, and improved social services overall. These protests are said to be interfering with president Sebastian Piñera's vision of the country being a prosperous and peaceful nation to foreign investors. Despite the president's efforts to restore order and security since the unrest began, the protests seem to be taking a toll on Chile's economy, as well as international trade and the global initiatives towards climate change.
Although Chile is often viewed as one of the largest and most stable economies in Latin America, the protests are expected to decrease this confidence. Investors are believed to see Chile as a much riskier market than they have been in the past. In terms of economic growth, Chile is expected to grow between 2% and 2.2% in 2019, decreased from the pre-protest statistic of 2.6% growth. Santiago's stock market even fell 2.8% the day that Piñera announced his decision to cancel two important international conferences planned to be held in Chile.
As well as the effects on the Chilean economy, the protests are interfering with international trade and global climate change initiatives. The effects of the protests started to affect other nations when Piñera made the difficult decision to cancel two international conferences, the Asia-Pacific Economic Cooperation (APEC) and the Conference of Parties. APEC was planned to involve 21 nations and is very important for bilateral sideline encounters between the participating countries. At this conference, U.S. President Donald Trump and Chinese President Xi Jinping planned to solidify phase one of an interim trade deal between the U.S. and China. Although this agreement wouldn't result in any major policy changes for China, it would potentially halt the tariffs on imported cellphones, apparel, and other Chinese goods planned to be imposed by the Trump administration on December 15th, 2019. Japan's prime minister, Shinzo Abe, was also planning to have another important meeting with Russian President Vladimir Putin at the summit. As well as APEC, the Conference of Parties (COP) was also planned to be hosted in Chile, bringing about 190 nations together to discuss details of how to reduce global emissions to meet the Paris climate agreement. Officials are currently negotiating new locations to have the meetings that would have taken place at the APEC conference, and environmentalists are seeking new opportunities to fight climate change and works towards the standards set by the Paris climate agreement.
Both conferences would have been unique opportunities for Chile to maintain a positive outlook internationally. It won't be easy to recover from these setbacks, but hopefully not having the responsibility of facilitating these conferences will allow Piñera more time to focus on structural changes and restoring order within the country.
Share this article
---