Published:
---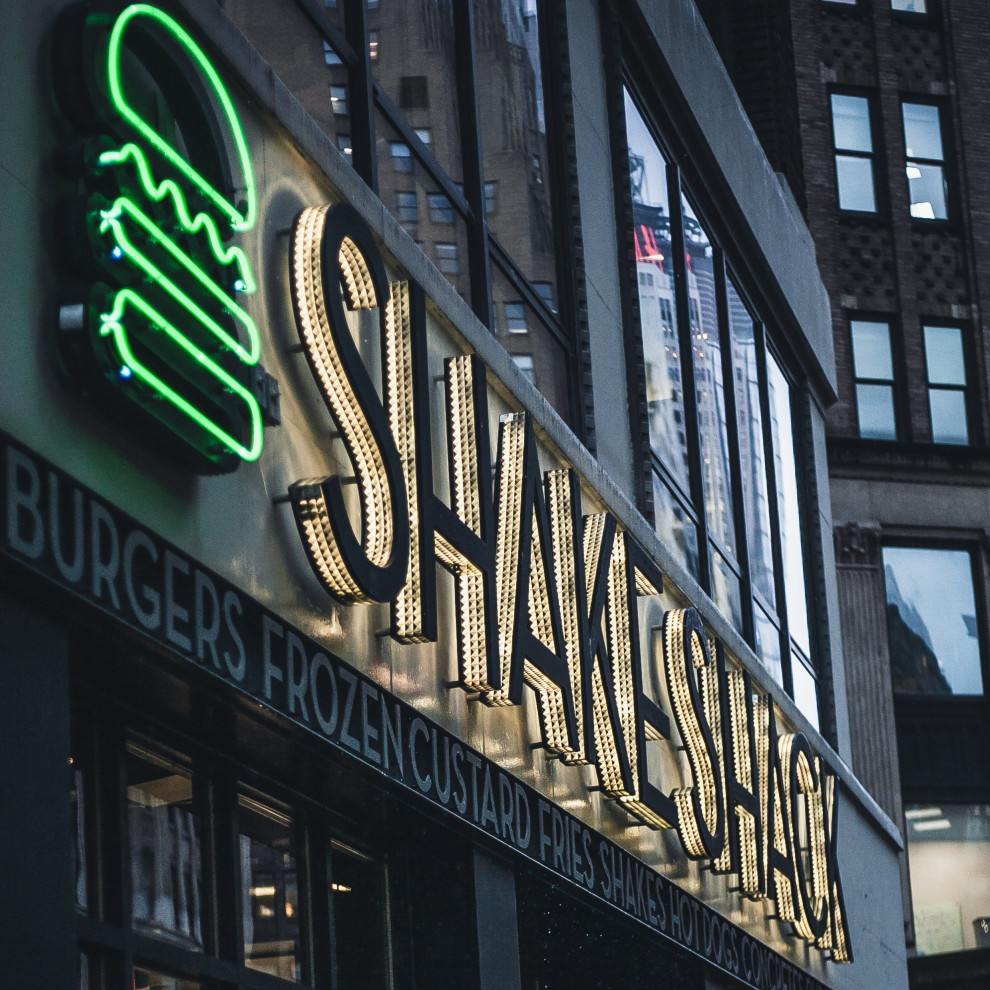 If you have ever eaten at a Shake Shack before, you know all about their quality burgers, french fries, and shakes, along with their modern restaurants. If you never have, you may recognize their simple green burger logo. Shake Shack began in Madison Square Park, New York City, in 2001 as a hot dog cart and in 2004 opened a permanent burger stand. Since 2004, their menu has barely changed, but their global footprint has skyrocketed. Today they have 384 locations, with 103 of those being international locations. You can find Shake Shacks in Kuwait, China, United Arab Emirates, Mexico, Turkey, and more. Even more surprising than where you can find a Shake Shack is what you can order because, besides a few unique items, the core menu is the same everywhere.
When Shack Shake first expanded globally, the company thought that it would have to adapt to the local market and change what it offered, but they discovered customers wanted the exact opposite. When customers came to a Shake Shack, they wanted the exact same experience they had at a Shake Shack in the U.S. with the same menu offerings. Understanding this, Shake Shack decided that if they continued to expand internationally, they would need to find an international strategy that matched customer needs. For this they could choose from one of the four international strategies: multidomestic, global, transnational, and international. Each strategy differs from the other through the level of being responsive to the local needs and responsive to how much customers are willing to pay for the product.
Shake Shack found that the best strategy for them was a global strategy. In a global strategy, a company forgoes meeting the local market requirements and operating in all markets in the same way. Shake Shack would offer the same core menu no matter where in the world their operations were, customers would have the exact same experience as if they were in any Shake Shack in the US. This proved incredibly successful and highly efficient for the company because since every location was serving the same core items, they could benefit from economies of scale. They are also able to centralize all of their operations in the US like their corporate offices and their culinary team.
This strategy does have its setbacks that Shake Shack has to continuously work through. In order to achieve the same quality and tastes across all stores, the company works to use American ingredients as much as it can. The problem with relying on the U.S. for its main ingredients is you have to ship those ingredients across the world. This forces the company to manage and work with supply chains around the world. The pandemic hasn't helped this as it has disrupted supply chains around the world, making it harder to ship goods. The other issue Shake Shack faces is pricing, as though a global strategy allows for a company not to greatly adjust to local needs, they raise the risk of the local market potentially not adopting the product or finding alternatives, so the price is very important to stay competitive in the market.
By utilizing a global strategy, Shake Shack is not only able to operate all of them under the same core menu, but they are also able to offer the same experience worldwide to every customer. They are able to build and expand their reputation as the premier fast burger restaurant in the world and allow the brand to become a household name. Shake Shack still has lots of opportunities to expand into new markets as they have yet to enter the markets in South America, Australia, Africa, or Canada. Next time you are craving a juicy cheeseburger, fries, or shake in Korea, Singapore, London, or the U.S, check out Shake Shack and know someone halfway around the world is enjoying one too.
Share this article
---